by Russ on Oct.09, 2006, under CSX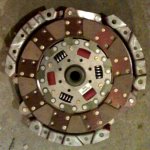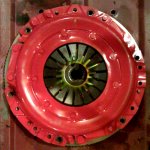 Turns out that I didn't tighten the distributer enough. The front engine harness is tied to the corner and it slowly pulled more and more retard until it was way off the scale and ran like crap. I also experimented with some different cam settings. It's currently set to 2 degrees retarded on the 88 TBI cam. It's a little soggy on the bottom end, but pulls pretty good to the redline. It's just a matter of switching my driving habits a bit.
The kevlar clutch for the Daytona arrived, which is now swapped and the pressure plate (LUK unit painted red) for the TU ceramic/organic is now freed up and standing by for the CSX. At some point after the Daytona is done, I am going to have to swap the clutch and the turbo.
:
CSX
No comments for this entry yet...