1987 Shelby CSX #694 of 750

These pages are dedicated to the car I kept trying to get over the years, but could never find. If you read the page about the other cars I've owned, you know that I have owned three Chrysler P-bodies over the years, but could never find this car. That car, of course, is the 1987 Shelby CSX (Carroll Shelby eXperimental).
See more pictures from the gallery…
The goal of this car is mainly to be a fun weekend warrior car. Compared to the Daytona, the CSX always feels more nimble and more fun to drive. They have the same wheelbase, but the Daytona feels like a boat by comparison. The setup is fairly mild, but is evolving. It is also the last of the initial string of P-bodies that I've owned from the beginning, which gives it some sentimental value. You can read the story of how I came to posess it here.
14.737 sec @ 96.35 mph
Current Vehicle Synopsis:
1987 Shelby CSX #694
146,000 miles
Stock '87 Turbo I engine block and crank
Venolia forged pistons (stock bore)
Turbo II connecting rods
Stock reman "fast-burn" 782 head
FM ported exhaust manifold
Custom 3-bar computer calibration, 20psi of boost on 93 octane (23 on race gas)
+40% "Super 60" fuel injectors
Stock T2 intercooler
Magnecor ignition wires
3 inch mandrel-bent stainless steel exhaust from FWD Performance
Walker Dynomax UltraFlo 16×6″ straight-through muffler
Walker Dynomax Super Turbo 3″ in, dual 2.5″ out muffler with dual stock-look tailpipes
1988 A555/A520 3.50:1 hybrid transaxle with an OBX torque biasing differential
Mopar TII clutch disk with LUK TIII pressure plate
Shadow ES interior (complete)
Alpine CD/MP3 receiver head unit
Polk speakers
Best 1/4 mile: 14.737 sec @ 96.35 mph on 06/28/2005
What is a Shelby CSX?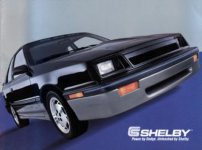 Well, you may have heard of the earlier Shelby's which were actually a sort of British coupe chassis with a Ford V8 stuffed in it. The 1987 CSX is no roadster though; it is actually a 1987 Dodge Shadow coupe, black with no options except turbo, that was modified by Shelby Automobiles, Inc. Shelby modified the engine by adding an intercooler intake setup and a high-performance computer, bringing engine output to 175 hp at 5300 rpm and 175 ft-lbs at 2200 to 4800 rpm. The brake system was upgraded to four-wheel Kelsley-Hayes disks (vented front, solid rear). He also installed Monroe Formula GP Iso-struts and shocks with firmer springs (lowering the car by 3/4 of an inch), and added firmer stabilizer bars. These mods bring the CSX to 15.07 sec at 92.4 mph in the quarter mile and a 7.1 sec 0-to-60 time, with a skid pad rating of 0.85g. For more details about the Shelby CSX, see Dempsey Bowling's 1987 Shelby CSX Historical Page.
Two other Shelby CSX vehicles were released in the following years. In 1988, Shelby Automobiles, Inc. introduced the 1988 Shelby CSX-T. All but three were sold right to Thrifty Auto Rental and could be rented for $34.95 a day. 1000 were made and numbers 1 and 2 went to the CEO of Thrifty and his daughter. One other was sold to a dealership. These vehicles were the same as the 1987 CSX, except that they lacked the Turbo II engine and were white over grey in color. In 1989, the last Shelby CSX was released. It featured the same handling package with a different alignment, and an aggressive exotic red body with deep airdams and side moldings. The biggest feature was the first 2.2L Turbo IV engine featuring the VNT turbo setup that virtually eliminated turbo lag.
Carroll Shelby modified several other Dodge vehicles around this time also, and all of these cars became known as Shelby Dodges. The history of the Shelby Dodge is described in great detail by Dempsey Bowling.