A simple single-ended directly-heated triode power amplifier.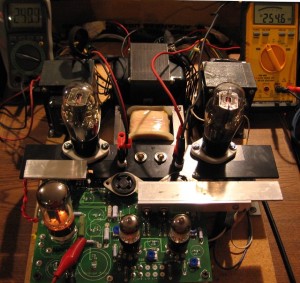 The amp with the final breadboard arrangement.
This amplifier is built around the Tubelab SE board, which is a hybrid single-ended power amplifier that uses MOSFET source followers as a driver stage between the input and output stages. It was designed for the 45 output tube, but can also be adapted for use with 2A3 and 300B tubes.
The amp's electronics were on a breadboard and, after a brief test of the Simple SE board, they have been there ever since. The amp is used regularly like this, though it is obviously not ideal. Current efforts have been concentrated on getting the Simple SE completed before tearing this amp down.