Automotive
by Russ on Jun.26, 2008, under Daytona
Another awesome time at SDAC has come and gone. The performance driving school was a blast as always. The Daytona did great overall, but the stress did highlight some issues. The intercooler definitely needs to be kicked-out at the bottom to allow some air to get around it. The loss in cooling capacity was very obvious after a few laps, though it will happen on the street in traffic with the A/C on as well. I'm thinking of buying a new fan as well. The other issue was oil pressure. I know the pump has issues and when the oil temps got high, I was seeing only about 30psi of pressure at 5000rpm. Not good, so I think it's time for a new pump.
I made 14 passes at the drag strip. Times weren't what I had hoped (was shooting for 13s), but I didn't break the car. I couldn't get the car to hook nor could I get it to make more than 18-19psi of boost…even with the wastegate unplugged. I also trashed 3rd gear by the end and it seems that it will need a new syncro. Did a bit of tuning, but most of the effort was spent trying to learn how to launch the car. Best time was 14.269sec @ 98.87mph.
| | | | | | | |
| --- | --- | --- | --- | --- | --- | --- |
| React | 60′ | 1/8 ET | 1/8 MPH | 1/4 ET | 1/4 MPH | Comments |
| 0.659 | 2.757 | 11.049 | 70.65 | 16.261 | 94.11 | First run. Completely borked the launch and then missed 3rd. |
| 0.277 | 2.669 | 9.949 | 77.33 | 14.896 | 95.98 | Swapped to BB60.14 cal. Slightly better launch. Hot-lapped. |
| 0.634 | 2.654 | 9.923 | 76.15 | 14.894 | 96.78 | Hot-lapped. |
| 0.253 | 2.717 | 10.060 | 74.62 | 15.094 | 95.95 | Crappy launch. Hot-lapped. |
| 0.590 | 2.544 | 9.968 | 75.76 | 14.904 | 94.35 | Hot-lapped. |
| 0.494 | 2.620 | 9.899 | 75.60 | 14.803 | 102.99 | Added boost to the cal. |
| 0.510 | 2.498 | 9.792 | 75.12 | 14.732 | 99.98 | Switched to grainger and dropped tire pressure to 35psi. Ended up with 15psi of boost. |
| 0.514 | 2.364 | 9.380 | 76.51 | 14.275 | 100.08 | Cranked up boost to 17psi. |
| 0.339 | 2.437 | 9.674 | 75.63 | 14.598 | 100.19 | 18-19psi of boost. Best MPH. |
| 0.145 | 3.092 | 10.719 | 74.40 | 15.686 | 99.53 | Bumped trans out of 1st during launch. |
| 0.261 | 2.265 | 9.276 | 73.87 | 14.269 | 98.87 | Finally a decent launch. Best ET. |
| 0.260 | 2.525 | 9.917 | 72.34 | 14.968 | 98.04 | 3rd grinding bad. |
| 0.371 | 2.698 | 13.899 | 47.47 | 22.392 | 54.02 | Turtle race (lost). |
| 0.159 | 2.410 | 9.792 | 76.13 | 14.802 | 95.75 | 3rd is done. |
Leave a Comment
:Daytona, SDAC
more...
by Russ on Jun.21, 2008, under Daytona
So I'm going to SDAC-18 and have been doing a mad-dash to get the car ready. The axle boot was the wrong one and tore itself up on the trans case. I put an old stocker in there from the Shadow while I worked on other things. Later I got the correct boots from JT and completely went though the axles. Only the short axle has the tripod welded to it and it looks like they did it while the bearings were on. They must have slipped and tagged one of them with the welder. The tulip race is chewed-up pretty good there. The outer joints have a lot of hammer blows on them and long axle's has a lot of play and binds much beyond the center. I put them back together anyway and they seem to be holding up so far. I don't expect to get a whole lot of miles out of them.
Trying to address the somewhat-weak oil pressure issues, I pulled the pan and removed the pickup. My thought was that it may have been leaking at the o-ring since I had to bend the tube a bit when putting the motor together. I took the pump apart as well to check the clearances. It had a lot of scoring in it for some reason, but the clearances were all well within spec. I also plastiguaged the rods bearings, which looked great and were nice and tight.
I'm going to be running the road course, so I put new pads and rotors in the front and bled the brakes. Also replaced the front swaybar bushings with new ones from Johnny. The radiator was throughly flushed, since I had some oil in there.
The ends on the CS Racer panhard bar were shot, so I modified a stocker to make it adjustable. One end was cut off and a grade 10.9 M16 bolt welded to it. Some of the bar was removed and an M16 coupler nut was welded to that end and the whole bar was boxed-in. It warped a bit after all the welding, so I lowered on car on it to bend it straight again. It was installed with new poly bushings from Johnny Spiva.

I DA'ed and rattle-canned the roof and mounted the side door mouldings. Painted those as well as some missing paint on the nose. Also painted the exposed bumper support since the grill is missing there. Did lots of touch-ups and also tried to deal with the worst of the rust on the hood. Didn't have enough time to finish sanding and rubbing-out the patches, but it looks better than it did before.
Leave a Comment
:
Daytona
more...
by Russ on May.23, 2008, under Daytona
Last night/this morning I finally fixed a few pressing issues. One was the boot on the driver's inner CV joint had chewed through itself a while ago and I've been meaning to put a new one one there for some time. I discovered that the Driveshaft Shop Level 3 axles have the tripods welded to the shafts, so they have to be taken apart from the outer CV end. Also, the inner joints have some kind of fiber reinforced plastic cap that seems to be there to keep the tripod in the tulip housing. The problem is the boot seals to the cap and the cap seals to the tulip with a rubber seal. On the other axle, grease is coming out between the cap and the tulip, so I am going to have to deal with that at some point..
The big project was replacing the shift fork pads on the 1-2 and 3-4 forks. I've been limping 3rd gear along for over a year now, as I cheezed it pretty bad on a hard shift one day but it was still usable. A week or so ago I did the same to 2nd gear, rendering it useless. I hoped it was just the pads and so I bought some new ones. Thankfully, that's all it was. The trans looked clean inside, though the sprags for 3rd and especially for 2nd gear are pretty chewed up. It shifts great now, so I am not going to worry about it.
Finally, both of the outer tie rod ends are so sloppy that they have about 1/2″ of play now. They are only a few years old, so no more Moog suspension parts for me. I got the more expensive ones from NAPA (Spicer I think). Same brand as the new ball joints that replaced the failed Moog joints and are holding up well.
Leave a Comment
:
Daytona
more...
by Russ on Apr.23, 2008, under Daytona
Still my daily driver. Been collecting some odds and ends that should hopefully help the spool department: A Turbos Unleashed cast log header and Turbonetics T03/T04E hybrid single ball bearing turbo with a "Super 50″ compressor and a Stage II exhaust turbine in a .63 A/R housing attached to a Turbos Unleashed 3" swing valve (whew). The header, housing, and swing valve are all ceramic thermal coated to keep temps down and gas velocities high. The turbo flange on the header is larger than it should be, so I will likely need to port the housing flange somewhat.
The Super 70 and ported exhaust manifold that is in there now will end up in the CSX once I get a new cylinder head for it. Trouble is the CSX needs to be running before I put this setup in there….
Leave a Comment
:
Daytona
more...
by Russ on Apr.06, 2008, under CSX
Well it's been about a year and a half since I drove the car.  This weekend I finally got a chance to tear into it.  I pulled the head and tore it completely down.  This crappy reman head is pretty screwed-up.  The three rear coolant jackets have been ground out and rewelded at some point.  There is a small crack between one of the forward jackets and the chamber.  The cam journals are pretty chewed-up too, so I think this head is done.  Too bad too because it has tight guides and fairly new valves.  The plan is to use the original head that came off this car when I got it back in 1998, which appears to have been junkyard TBI roller cam head as the exhaust valves are pretty burnt up.  It also has some small cracks starting in the rear jackets, but they are not threatening yet and can be relieved.  The guides are worn as well and so it needs a complete rebuild….
I also pulled the trans in preparation for the new TU ceramic/organic clutch that's been sitting on a shelf waiting for a chance to be installed.  I also checked the input shaft and diff carrier play and they seem to be holding up well.  I had a little trouble removing the passenger side axle due to the OBX's tendency to collapse slightly when the bearings are installed.  A bit of tapping persuaded it out.
Back to the head…a month or so ago I decided to use this head as my first attempt at head porting.  I figured it was no big loss if I ruined it and was still usable if I didn't.  It turned out much better than I thought it would.  I made a few mistakes, but it should still flow much better than stock so I figure why not try to run it and see how it does.


Intake, before and after (click for higher resolution):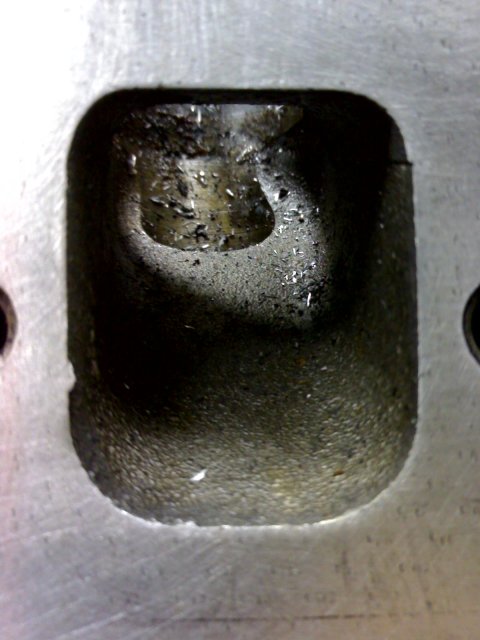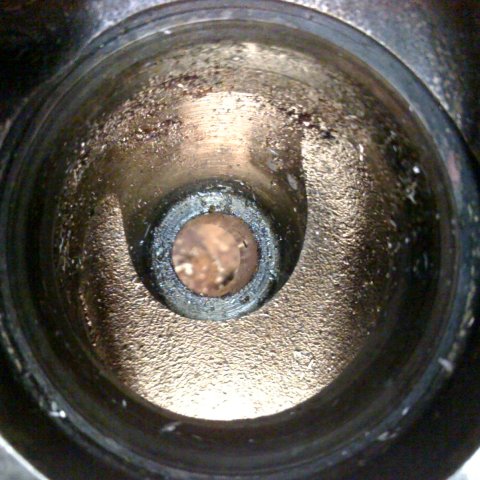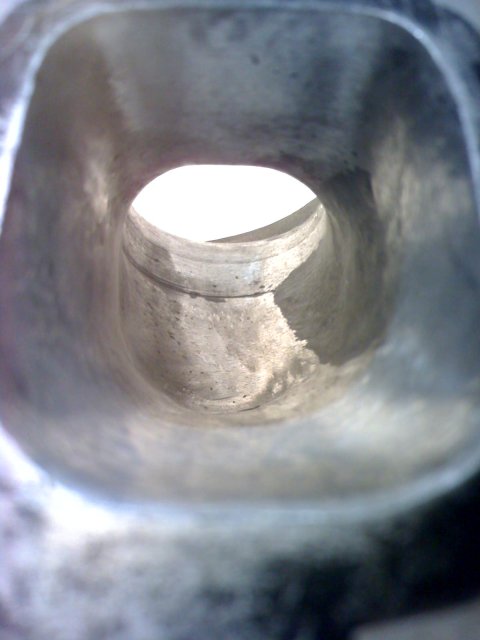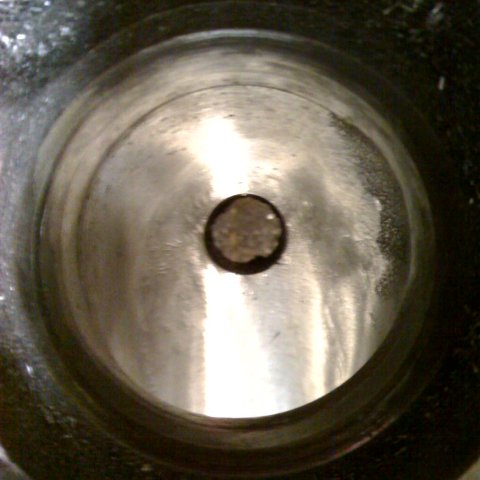 Exhaust, before and after (click for higher resolution):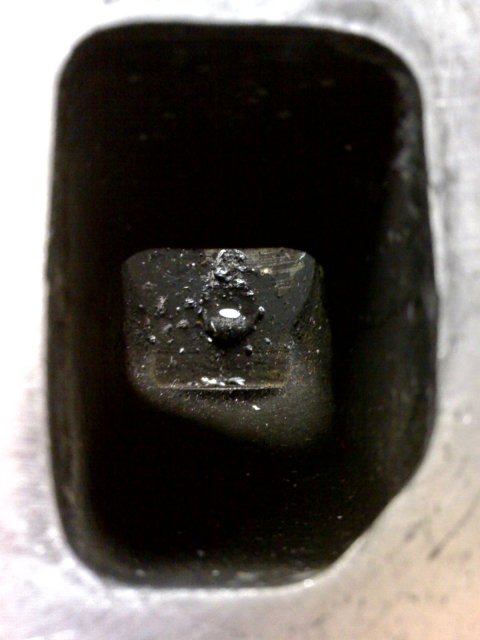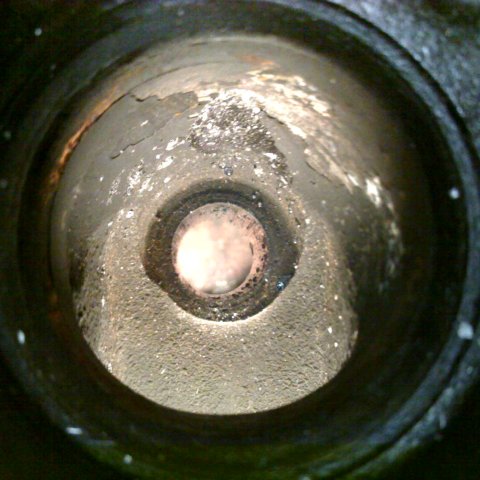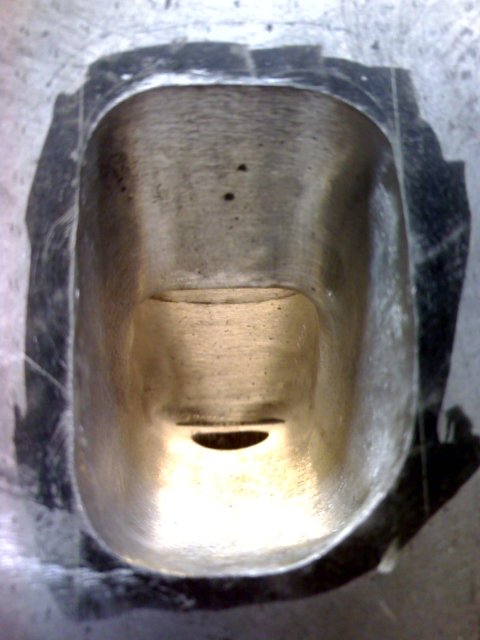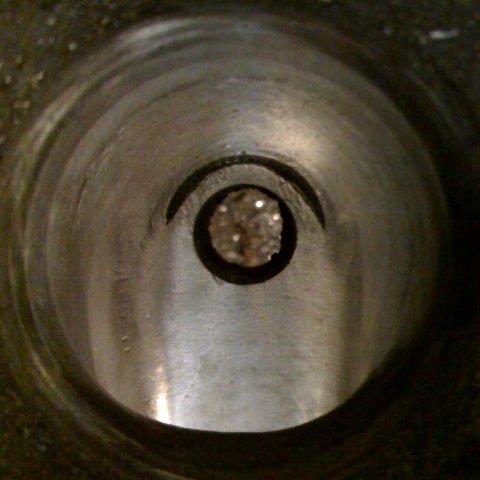 The bowls were cleaned up and the ports straightened and blended.  The roof of the intake was raised considerably (too much over near the bowls) and the roof of the exhaust was also raised slightly (there is a coolant passage that needs to be watched out for).  I also filled the area on one side of the intake ports where core drift always leaves a pocket the undercuts the seat with JB Weld.  This is probably where Steve Menegon does it, but I didn't look that closely at his head on the Daytona before installing it.  The floors were smoothed and blended, but otherwise left alone.  I did lay back the floor at the exhaust bowl more on the advice from Tyler. I'm now coming up with a way to de-shroud the valves so that it is done equally.
Leave a Comment
:
CSX
more...
by Russ on Jun.05, 2007, under Daytona
Drove the car all winter and spring without any major issues. The most annoying thing that happened was when the adjustable cam sprocket came loose and the car wouldn't start late at night in the parking lot at work. I was able to snug it up with some vice grips and get home. I've got a stock sprocket on there now.
I recently replaced the stock headlamps with a Hella H4 "Free Form" conversion kit and built a relay module so that the lights got power directly from the battery. I measured an over 3.5V drop through the stock headlight circuit. The housings are DOT approved and I am using the standard 65/55W bulbs. The light pattern is much better than a standard sealed-beam lamp and they run nice and bright with the extra voltage. If you are thinking about a HID conversion for better visbility (and not because you think they are pretty), do the H4 conversion and relay mod instead. The on-coming drivers will thank you (I hate HIDs).
Leave a Comment
:
Daytona
more...
by Russ on Jun.05, 2007, under CSX
I literally have not touched this car, short of starting it up once this spring. I really need to tackle the mechanical issues first, just so that it can be driven in the event of an issue with the Daytona. With the birth of our son this past December, there just hasn't been any time. What little spare time I do have gets devoted to fixing small issues on the Daytona. I suspect that I will not be able to do anything with this car this year.
Leave a Comment
:
CSX
more...
by Russ on Nov.08, 2006, under Daytona
The stupid cheesy plastic draincock on the brand new radiator broke on the way to work. Stuffed a rag in the hole and limped back home. What a crappy design. Anyway, I did a few other odds and ends while I was at it, including the installation of the correct throttle cable. I also got the interior all cleaned up nice and managed to take some pics of the inside and the outside (it's a little dirty on the outside, but oh well).
I'm really happy with how the guage pod and mounts turned out.
Leave a Comment
:
Daytona
more...
by Russ on Nov.06, 2006, under Daytona
Drove it around a bit over the weekend. Took it to work today and romped on it a bit. The Super 70 is a bit more laggy, but it's not anywhere near as bad as I thought it might be. Also, the intake temps are just a few degrees above ambient…this intercooler is the bomb. It's pretty peppy even when the turbo is lagging and man this sucker moves when the boost hits. It will be interesting to see how it works once I start cranking it up. Right now it's on the stock cal with the fuel pressure turned way down. It won't go low enough in vacuum, so it makes it a little lean further up the scale since the autotrim gets a little out of whack. It's like 10.5:1 at WOT, but if I leave part throttle it HAULS.
Leave a Comment
:
Daytona
more...
Disclaimer: The projects described in these web pages may use dangerous materials, and components. This material is intended for advanced electronics experimenters only and may cause your vehicle to be suitable for off-road use only. The author assumes no liability for damages incurred through the use or misuse of the information provided herein. This information is provided "as is" and without warranties as to performance of or any other warranties whether expressed or implied. No warranty of fitness for a particular purpose is offered.