Automotive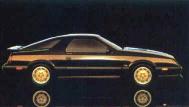 Now I can't start talking about cars without going into incredible detail about the type of cars I drive.  In general, I enjoy driving and tinkering with those wonderful 2.2L/2.5L turbocharged front wheel drive Chryslers, which I lovingly call "Mini-Mopars" for short.  I managed to diverge from the P-body a bit, as my current daily driver is a 1986 Dodge Daytona Turbo Z C/S.  The "C/S" stands for Carrol Shelby which, for the 1986 Daytonas, meant an additional handling package in addition to the fully-loaded "Turbo Z" package.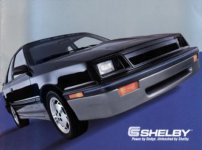 I found that I could not get to work and play with the car at the same time (most projects last longer than an evening or weekend).  So, I found myself a project car.  Surprise, surprise…it is a P-body…but a special one.  This would be my 1987 Shelby CSX #694 of 750.  I spent a frustrating year gutting and restoring parts of this car, but there is still work to be done.  I learned a great deal from those trials and tribulations and the car is a blast to drive.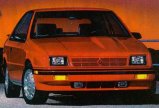 For a while it seemed that I had some kind of fixation on Chrysler's early (1987-1988) P-body.  My former daily driver was a 1988 Dodge Shadow ES with "a few mods".  Unfortunately, I had to retire her due to a fatal case paint peel and floorpan rust.  It was a great car and if I ever encounter another, I'll have a tough time passing it up (as long as it doesn't have peeling paint).
Few people are aware of the relationship between Carroll Shelby and Chrysler.  For a very detailed history of this relationship, take a look at Dempsey Bowling's Shelby-Dodge Historical Pages.  To talk to people in the Shelby-Dodge and Chrysler Turbo community, try the Shelby-Dodge Mailing List or the forums at Turbo Mopar Forums.
I have taken much of my knowledge, as well as the knowledge of others, to create the Mini-Mopar Resources website.  It is a never-ending project that covers troubleshooting, repairs, technical, and performance information.  It also contains the infamous and controversial Oil Filter Study that I did.  There are also a few other good sites for this kind of info.  See the links below…
You would be amazed what these little engines can do.  Take a look at the late Paul Smith's 12-second, 1989 Dodge Caravan.  There is also Gary Donovan's 12-second 1989 Dodge Daytona Shelby and his 10-second 1985 Plymouth Reliant K "Relentless".  These are but a few.  I have been working on a custom calibration for both of my cars.  It is a learning process, but you can find out more on my Automotive Electronics pages.