by Russ on Nov.07, 2012, under Keyboards
The Cherry MX switch lineup is somewhat lacking a "quiet" tactile switch that is really tactile. As a buckling spring enthusiast, I find the MX blue switches highly annoying both in terms of sound and feel. The click has a very high-pitched tick and ring to it and the tactile feel has an odd disconnect from the time the key is registered. This might be because the reset point is above the actuation point. MX brown switches are not really all that tactile to begin with, but at least they register the press at a more intuitive moment and they don't have that annoying tick. Cherry also has a more tactile version of their brown switch, which has a translucent "clear" stem. The springs are quite stiff, which makes them tiring to type on for any length of time.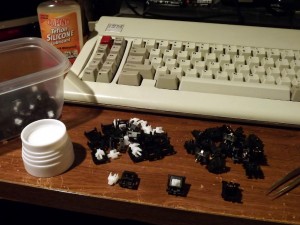 A very common Cherry MX switch modification in enthusiast circles is the so-called "ergo-clear" mod. This is where you combine the MX clear stem with the lighter spring from an MX blue/brown/red switch. I've decided, for me at least, that the ergo-clear provides the best typing experience that a Cherry MX switch can provide. It's no buckling spring, but it comes close and is less noisy to boot.
Usually, most of the work is getting into the switches. If the switches are already in a keyboard, they have to be desoldered if they are the plate-mounted variety. PCB mounted switches can be popped open without desoldering as long as the switch does not have integrated LEDs. I've done this to a few boards now, but this time I am working with loose switches.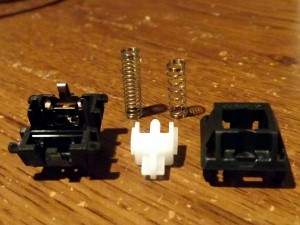 The switches are fairly easy to pry apart with a pair of small tweezers or similar tool. Some care is required during reassembly, but it is not that difficult. I also lube the stem guides with Silicone Teflon lubricant. This is a good idea with ergo-clears since the soft spring can have some difficulty overcoming the weight of the key and the friction of the tactile bump.
The soft spring is the longer one on the left.
:Cherry MX, Keyboards
3 comments for this entry: