by Russ on Feb.14, 2012, under Keyboards
My search for a mechanical keyboard that will be quiet enough for home use and yet comfortable to type on led me to geekhack.org. Filled with copious amounts of information about modern production mechanical keyboards, I decided to give some a try. Most of them produced today use switches from Cherry Corporation's MX line. They use different stem colors to denote the different models. Mechanical keyboards have been coming back, thanks in large part to the gaming community. Four are commonly used switch types are:
Blue – tactile with a audible click
Brown – tactile with no click and lighter springs than the blue
Black – linear with heavier springs than blue
Red – linear with lighter springs (similar to brown)
There are lot of different brands out there with more coming all the time. In reality, there are only a few manufacturers making them. One of the best regarded, Filco, are made by Costar. Costar has been making boards for other brands using their reference design, which makes use of things like a steel plate that the switches mount to. In other words, you can get a "Filco" for much less than what a Filco-branded board costs.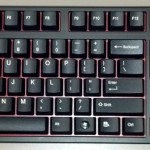 The MX Brown seemed the most logical one to try first. It was a quiet switch with some tactile feel. I opted for the Rosewill RK-9000, which has a full 104 key set. It's a very nice, solid board and I am extremely happy with it for typing. However, for gaming I found the tactile feel somewhat distracting. The bump in the stem that provides the feel also contributes a rough feel to the movement of the key.
To address this, I picked up a CM Storm Quick Fire Rapid with MX Red switches. I find this to be much better for gaming. It's not quite as nice for typing, but it is still better than the previous keyboard I was using at home (Saitek Eclipse II). It is a "tenkeyless" model (no numeric keypad), which is a little weird at first. It's perfectly fine for gaming, though. It comes with some extra keycaps for the WASD and "super" modifiers. The overall look of the keycaps is somewhat obnoxious. However, it's still a Costar with a metal mount plate and all that. It is a solid board that just needs some better caps.
:Cherry MX, Keyboards
No comments for this entry yet...