by Russ on Sep.10, 1999, under CSX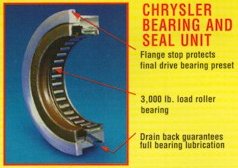 I believe that I have found a "patch" for my current transmission problems. Thanks to Joe Dzwil, I was able to install a Techpak-Fitzall Chrysler Axle Stabilizer Bearing (part# 32125LRB). It's a neat little unit that installs in place of the stock seal and oil slinger in the trans. It has an integral roller bearing and seal that rides on the sealing surface of the axle. A good axle with a smooth and clean sealing surface is required because the roller bearing uses the old sealing surface and the new seal uses the very outer edge of the sealing surface, which will be rusty and dirty on a new axle. The extra axle I have was in good shape. Some sandpaper and some rubbing compound later, I had a nice bearing ans sealing surface. The bearing also has some gripping splines to keep it from spinning and an oiling hole that matches the oil feed hole on the trans.
Before installing the bearing, I fully drained the transmission so that I could clean the surfaces properly. I did an "Ed Peters" to it by drilling out the hole in the square-shaped boss on the bottom of the differential housing, and tapping it with a 3/8″ NPT tap. Once it was drained, I plugged the hole with a brass pipe plug using solvent-safe PFTE thread tape (the yellow stuff). Getting good threads in the boss is tricky because it is slightly too large for the first 1/8″ or so. Use a slightly smaller drill bit than is required by the tap. Now I can change the fluid completely without pulling axles or removing the side cover.
Looks like the CSX will be at the SDAC Chicagoland meeting after all!
:
CSX
No comments for this entry yet...