by Russ Knize on Nov.23, 2002, under Daytona
After I decided to retire my faithful old Dodge Shadow ES, I started looking for a replacement daily driver.  A little tired of P-bodies, I considered getting a Daytona.  Lot's of people drive Daytonas, so I wanted something a little different.  I'm sort of partial to the hard lines of the earlier body styles, so I thought a pre-1987 Daytona would be an interesting choice.  However, I kept my options open, as a solid body with good paint was my highest priority.  While browsing the archives of various mailing lists, I came across this car for sale in Ohio for $800.  The car had fairly recent paint and supposedly had a reasonably solid underbody (just needed a little floorpan work in the usual areas, I was told).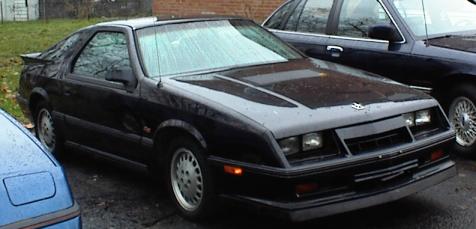 After talking to the seller for a while, I decided this would be a good buy.  It had quite a few little problems, but it had good paint and it was a 1986 C/S, which is relatively rare.  So I rented a car, drove down to Cincinnati and drove it back home.  The car made it without incident, though it was a little scary at times.
Background Information
I guess I like owning cars with interesting histories.  This one was found in a police impound by the previous owner.  His intent was to use it as a parts car for his early T-top Daytona.  As it turned out, the body on this Daytona was in much better shape than his other one (new paint, etc), so he decided to keep this one and sell the other.
While driving on a very bad road in Michigan, the previous owner hit a deep pothole that (as it turned out) bent the right-side control arm, the K-frame, and part of the underbody frame.  The car started throwing left axles and developed a strange front-end shake at speeds below 35 MPH.  His mechanic then discovered that the control arm was bent, so he had the entire K-frame replaced with a 1992 unit from a Shadow.  The 1991 and up K-frames are superior to previous versions, as they have improved geometry and cast iron control arms for better stability.  While this did stop the axle throwing problem, it did nothing for the front end shake.  His mechanic then tried replacing the left motor/trans mount, as the original was apparently bent up.  Unfortunately, it didn't help and so he ended up selling it to me.
Prior to that, the car has had one other accident (according to CarFax).  It apparently hit a curb back in January of 1991, which explains the strange welds all over the lower front cross member.  There is also a piece of angle iron that is sort of sloppily welded to part of it.  The CarFax report also showed that titles were issued for the car a total of six times in Ohio, all between 1997 and 1999.  The mileage changed very little in that time.  This may have had something to do with the car being impounded, as it may have changed hands as it was shipped around.
:
Daytona
No comments for this entry yet...