by Russ on Feb.01, 2016, under Flight Training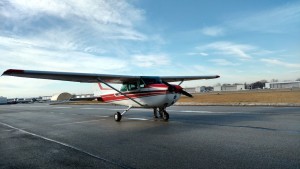 Today's lesson started off normal enough.  Then I somehow dropped my pen after I made the call to ground and had no way to write down the instructions, which were complicated enough that I couldn't remember all the clearances for the read-back.  After I botched that, we got some sort of hint from the tower that I missed to get out on the runway and step on it.  Then on the rotation, I was so focused on what I was doing with the rudder that I released back pressure on the yoke and we sat in the ground effect before I figured out what was going on.
Luckily, things got better after that.  We practiced slow flight in the clean configuration once and then went on to the dirty configuration.  First we wallowed around with various flap settings to give me a feel for it and then he demonstrated slow flight in the landing configuration.  My first try was messy, second try was better but I still couldn't hold my heading or altitude during the transition.  The turns were awkward, but not a disaster.  I nailed the altitude on the third try and my turns were better, but still lost my heading during the transition due to poor management of the rudder.  Apparently though, I did well enough that he showed me power on and power off stalls and gave me a stab it at.  We always recovered before the stall started, but it was still a challenge as I hadn't studied the procedures beforehand. I didn't do them very well, but now I know what I'm in for next time.
He said my landing was good…if you say so Mr. CFI! It was a blur to me. I need to relax more. That is a big part of my trouble with the rudder. I'm pushing on both pedals so hard that I can barely stand when I get out of the plane.
:Aviation, Flight Training
No comments for this entry yet...