by Russ Knize on Apr.15, 2009, under Electron Tube Audio
With a custom power transformer from Edcor, I could finally try this amp with some borrowed 300Bs. This transformer's primary is tapped so that it can be used with either 300Bs or 45s:
XPWR131 - 330-260-0-260-330 @ 175mA, 6.3 V CT @ 4A, 5V @ 3A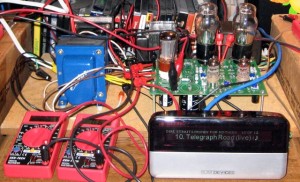 Voltages came in a bit high, even under load. The top row is the Tubelab SE in "45 mode", with about 25mA per tube. Meters are reading: 660VAC winding, 520VAC winding, B+ at the filter cap. Bottom row is in "300B mode", running Shuguang 300Bs (not mine) at about 28mA per tube. First two meters got swapped: 520VAC winding, 660VAC winding, B+.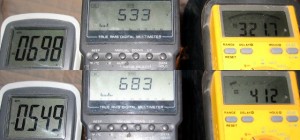 With the 300Bs biased to 80mA, the 660VAC winding gets pulled down exactly to spec: 660VAC. B+ sags to around 370-375 VDC. Supposedly this is the ideal spot for the 300B. These tubes are Shuguang's aptly-named "300BS", which have mesh plates and globe-shaped glass. They have a weird blue glow on the glass, presumably from electrons flying through the gaps in the mesh.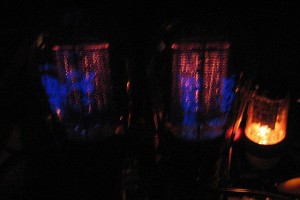 :
Tubes
2 comments for this entry: