by Russ Knize on Mar.22, 2009, under Electron Tube Audio
With the right iron, the Tubelab Simple SE comes to life. After a sanity-check with cheap Chinese tubes, here is the amp running with JJ 6L6GCs strapped as triodes. The amp sounds sweet with a bit more power than the Tubelab SE.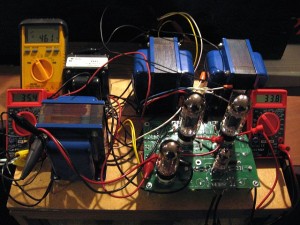 This coincides with the new speakers that I recently got off of Craigslist: a pair of Klipsch KLF-10s. The horns on these do cause ear fatigue on the Dynaco, but with this amp it is more subdued. I am hoping that the DHTs in the Tubelab SE will be even better.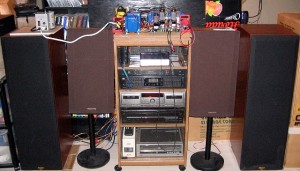 The basement in currently under construction, so the setup is a bit MacGyver.
:
Tubes
2 comments for this entry: